My PHILOSOPHY: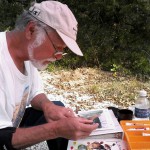 Unlike the idea of abstract or other form of 'modern' art, for me the idea is that painting should follow some form of illustration and truth telling. Basically, the premise of my painting philosophy, is to build layers of narrative into my paintings. A place or landscape scene is never defined satisfactorily without it's relationship to color and composition. It's important to balance fact with imagination.
I love the process of creativity. When I'm in the middle of a painting I am most alive and feel that my paintings are a collaboration of past, present and future. The past is my accumulated years of painting and observing experience. The present is the scene or idea of what is in front of me. The future is the manipulation of the paint on canvas, in my way, by my hand, to develop it into the work of art, i.e my story.
Over the course of a lifetime tastes change and artists, at some point, may find their work 'out of fashion' or 'favor'. Time becomes the only true critic.
Art reflects the soul of society.  A judgment can be made for the attitude or condition of society by inspecting the popular 'ideas' of art or, in some instances, the lack of art.
RESUME HIGHLIGHTS:

HONORS:  Who's Who in American Art * Founding Member NOAPS, 1990; *Collaborator, "Art and Ambiance Trail", map & video to Art Studios
NOTED SOLO EXHIBITS : *Gallery Americana, Carmel,CA; *Harwell Art Museum, Poplar Bluff, MO; *Kodner Galleries, St. Louis, MO; *Morris & Whiteside Galleries, Hilton Head Island, SC
INVITATIONAL EXHIBITS: *Altermann Galleries, Santa Fe, NM, "Michaels, Orr & Titovets, 2002; *Arts For The Parks, Top "100", Jackson, WY  2006, 03, 02, 1994, 93, 90; *Castle Gallery, Ft. Wayne, IN; *Gilcrease Museum Miniature Exhibits, Tulsa, OK,
PUBLISHED ARTICLES & ILLUSTRATIONS: *Feature article: "The Perfect Landscape", Local Life Magazine, Nov, 2017   * Feature article: "The Landscape of Serenity", Missouri Life Magazine, Oct.2017    *Feature article:  "Joseph Orr: Using Acrylics Outdoors and in the Studio",  Workshop Magazine, Premeir Issue, March, 2005; *Feature Article: 

"Wonderful Wanderlust"

,  Art of the West Magazine,  Sep/Oct, 2003;  *Feature Article: "Joseph Orr", Southwest Art Magazine, April, 1997; * Illustration & Chapter:  Acrylic Painting Styles & Techniques by Rachel Wolf, Northlight Brooks, 1997;   *Authored Article:  "Lighting Your Way to Stronger Landscapes" , The Artist's Magazine, January, 1996
DESIGNS & DEDICATIONS:  Numerous designs for Easter Seals of Missouri annual Christmas ornament.  *Illustration for the Ellis Fischel Gala Fundraiser, Sponsored by the Lodge of the Four Seasons, Lake Ozark, MO. Joseph is honored to have provided the painting for invitation design and subsequent silent auction benefiting the Ellis Fischer Cancer Hospital in Columbia, MO, for the past 15 years.